The PreenFM2 brings the old FM synthesis in a small open-source modern DIY box

The Plexi case :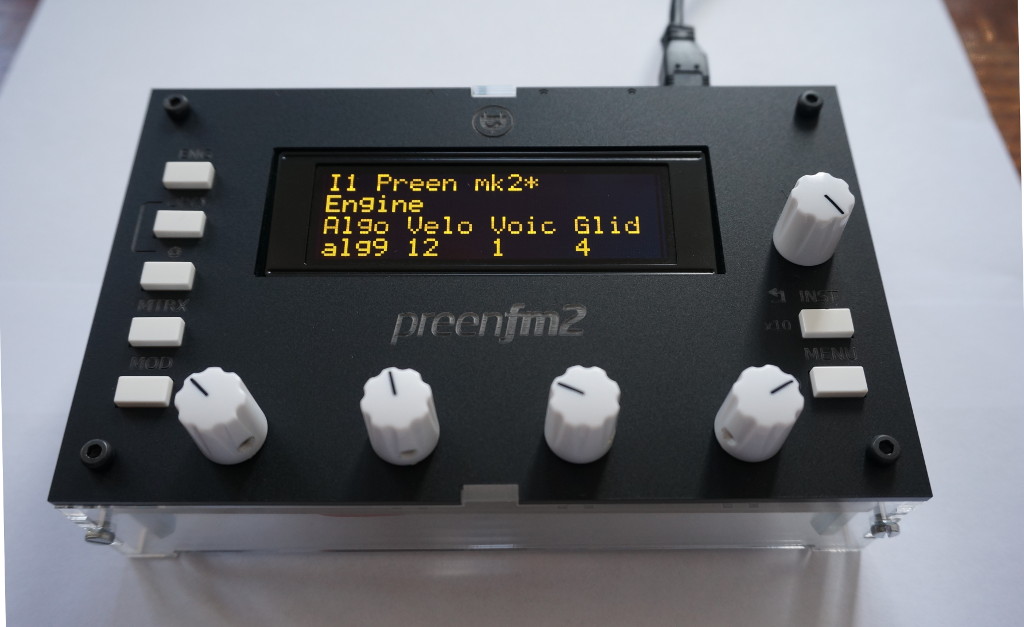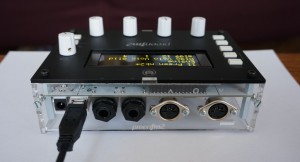 Today's technology in a small box.
In addition to regular FM synth features you'll get (firmware 2.01) :
4 independent instruments. Each of them has:

Powerful arpeggiator (Mutable-Instruments opensource algorithm).
1 effect Slot (chose among 32 filters such as LP, HP, formant, crusher…)
1 gate effect
4 rapid access performance parameters
The 4 instruments can be saved all at the same time in combo presets.
Each instrument has its own modifiable midi channel. They can share the same for FAT quadruple timbres notes.
Modifiable number of allocated voices… Between 1 and 14.

28 FM algorithms from 3 to 6 operators

Up to 14 voices of polyphony (8 if you use 6 op algorithms). Each voices has:

7 low frequency modulators (3 LFOs, 2 enveloppes, 2 step sequencers).
12 rows matrix : 16 sources, 32 destination (LP, HP, gate, stereo, MI, attack…)
Arpeggiator, LFOs and step sequencers synchronizable on external midi clock or internal clock.

Operator features:

7 builtin waveforms + 6 user waveforms read from the usb drive.
Stereo panning (at the carrier operator level)
8 envelope parameters per operator (DX7 like)

Direct Scala scale file loading for microtonality. Up to 128 Scala scales selectable from the preenfm2.
Modular Randomizer
USB all the way

Midi over USB
USB drive: huge preset banks: 64*128 presets, 8*128 combos, 256*32 DX7 presets.
The USB drive holds your preset banks, you scala scale files, your user waveform files.
Easy firmware upload and flash.
USB powered

Comprehensive user interface and associated to a 4×20 characters display for easy preset edition
Small, portable and easy to build (no SMD)
Mac/Linux/Windows open-source preset Editor : standalone and VST
Know you hardware : 100% open source (compiled with GNU toolchain) and  open hardware (only very standard components).
Other features :
Can import DX7 sysex banks (just put them on the usb stick)
Glide possible for instrument(s) with number of voice set to 1
Midi through Din5 or USB
Can be powered by USB or 7.5V-9v 2.1mm DC IN
Boots in 2 seconds
Al very standard components
2 * double 12bits DAC (mcp4922) => 18 bits stereo output
Single simple pot to control stereo volume
Sample rate 38Khz (or 42Khz with overclocked firmware)
Custom bootloader with 3 ways to upgrade firwmare: Usb stick, sysex through Din5 or DFU.